UTAR Lee Kong Chian Faculty of Engineering and Science (LKC FES) lecturer Ir Dr Tham Mau Luen's research project, titled "Context-Aware Disaster Mitigation using Mobile Edge Computing and Wireless Mesh Network" was selected for ICT Virtual Organization of ASEAN Institutes and NICT (ASEAN IVO) in 2020.
ASEAN IVO is a global alliance of ICT R&D institutes and universities in the ASEAN region and Japan. The mission of ASEAN IVO is to seek and identify strategic ICT research areas in the ASEAN region and promote collaborative projects with them.
A total of USD80,000 was awarded for the entire research project. The funding will be allocated yearly, with USD40,000 for the first year and another USD40,000 for the following year. The amount is subject to change based on National Institute of Information and Communications Technology's (NICT) fiscal year budget situation and the duration of the grant awarded will take effect from April 2020 to March 2022.
Among the other co-researchers of this research project are UTAR LKC FES lecturers, namely Assoc Prof Ir Dr Chang Yoong Choon, Assoc Prof Ts Dr Ezra Morris Abraham Gnanamuthu, and Dr Lee Ying Loong.
Besides UTAR, the other participatory members of this research project are NICT, Japan; BHN Association (NGO)/Japanese Telemedicine and Telecare Association (JTTA), Japan; MIMOS, Malaysia; Geographical Information System, University of Computer Studies, Yangon, Myanmar; and Faculty of Science and Technology, Pathumwan Institute of Technology, Thailand.
When asked about what inspired him to conduct this research, Dr Tham explained, "The research proposal is a response to one of the themes proposed in the ASEAN-IVO 2020's – 'ICT for Environment Protection and Disaster Prevention'. This research project aims to develop a context-aware disaster mitigation system (CAMS) that utilises mobile edge computing (MEC) and wireless mesh network powered by NerveNet. Armed with MEC, each node executes AI detection tasks locally and such critical information is stored in the distributed database of NerveNet. Meanwhile, by using wireless mesh networking, data can be disseminated to the emergency response unit (ERU) for rescue planning."
He added, "Natural and man-made disasters occur frequently around the world. Internet of Things (IoT) sensors can detect such cataclysmic events. In existing IoT framework, data is transmitted to the remote cloud via wired connection for further analysis. Several issues remain to be addressed, including massive deployment effort, unavailability of vicinity communication infrastructure, data transfer over limited bandwidth and high latency in communication networks."
Dr Tham enthused, "One of the main criteria to obtain the grant is the members of the proposed research project must be from at least two institutions and two countries of the ASEAN region. In addition to that, ASEAN IVO also focuses on research projects that provide real-world R&D solutions in the field of ICT and the research impacts must be broad and huge."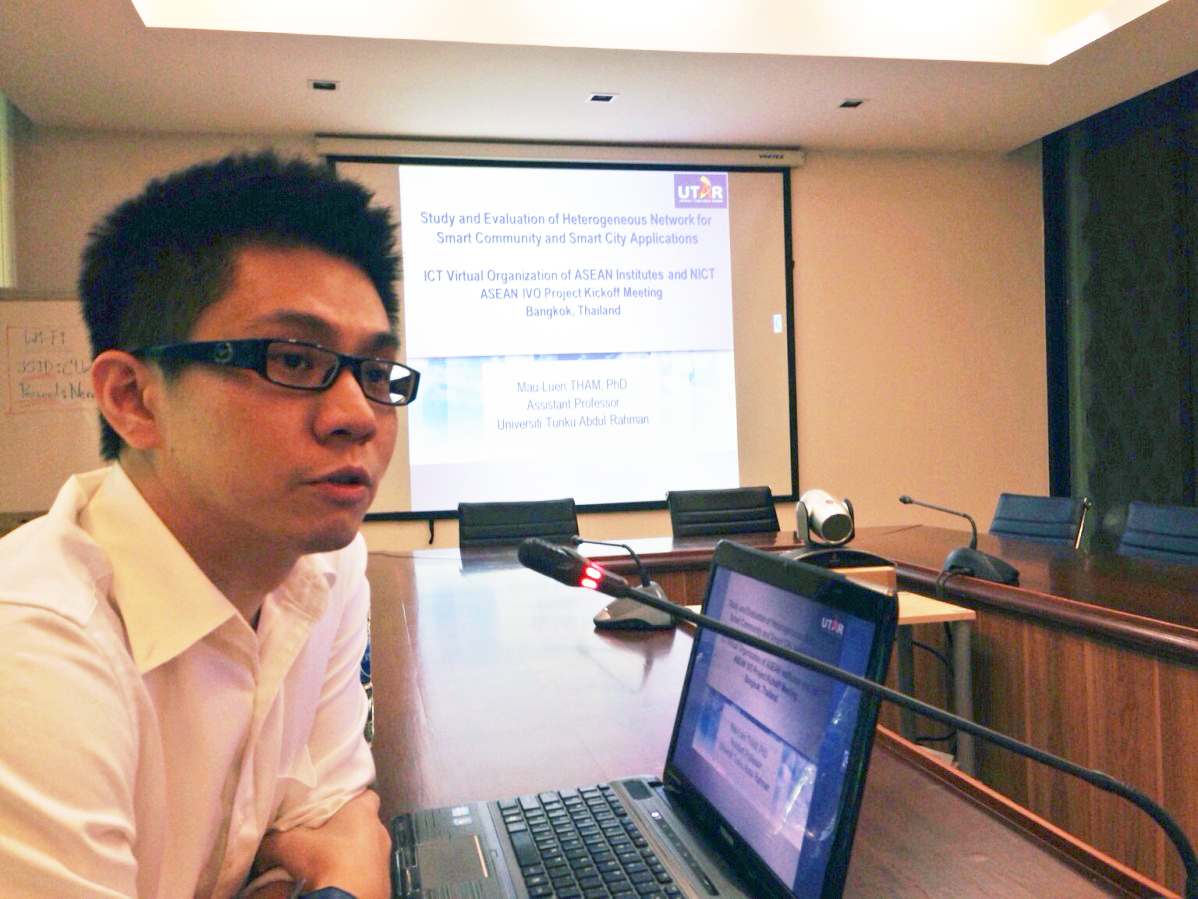 Dr Tham at ASEAN IVO 2017 meeting held in Bangkok, Thailand