Lee Kong Chian Faculty of Engineering and Science (LKC FES) and Faculty of Accountancy and Management (FAM) students emerged as Malaysia's Champion in the Schneider Electric Go Green: A Global Student Competition held at Petaling Jaya on 4 March 2020.

Organised by Schneider Electric to lead the digital transformation of energy management and automation, the competition aimed to look out for bold ideas that can shape the future of Schneider Electric's industry and its company.

Mentored by Chemical Engineering lecturer Ts Dr Shuit Siew Hoong, the UTAR team was comprised of LKC FES final year Chemical Engineering student Chai Yi Jun and FAM final year Global Economics student Chin Yee Xin. Throughout the competition, the duo proved their spirit in an oral presentation which saw them demonstrating their maturity and understanding of their proposal, further impressing the judges with their precision in answering the judges' questions in the subsequent session.

Chai and Chin grinned ear to ear when they were announced as the champion. "This is actually our first time participating in this competition. I'm very grateful to my teammate for a great job done," said Chai who hails from Pahang. On the other note, Chin extended her appreciation to advisor Dr Shuit for the guidance and opportunity for such enriching exposure.

The competition was divided into four categories, namely Sustainability and Access to Energy, Buildings of the Future, Plants of the Future, and Grids of the Future. The students were required to prepare a proposal related to the category they took part in. The UTAR's duo joined the category of Sustainability and Access to Energy with the team's name as "Amazingly, it works".

The proposal title for the competition was "Fonergy, Solution to Your Food Waste Energy". The idea of team "Amazingly, it works" was about the utilisation of food waste to generate energy in the form of electricity and fertiliser that could eventually have great contribution to the society and the environment.

In the proposal, they raised the issue of serious global food waste which was about 1.3 billion tonnes annually. These food wastes can be served as the food source for the microorganism to undergo anaerobic digestion in microbial fuel cell to generate electricity. The leftover sludge can be further processed into organic fertilisers. The idea proposed by team "Amazingly, it works" realised the concept of "waste to wealth".

This earned them a ticket to the Asian Pacific Final on 16 April 2020.

The duo walked away with a trophy and a certificate of participation each. The students also had the chance to have lunch with the top management of the company and also a job interview at Schneider Electric.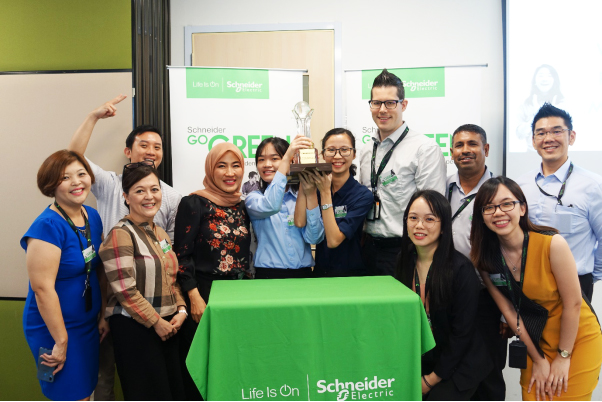 Proud winners, Chai (sixth from right) and Chin (fifth from left) posing with their trophy