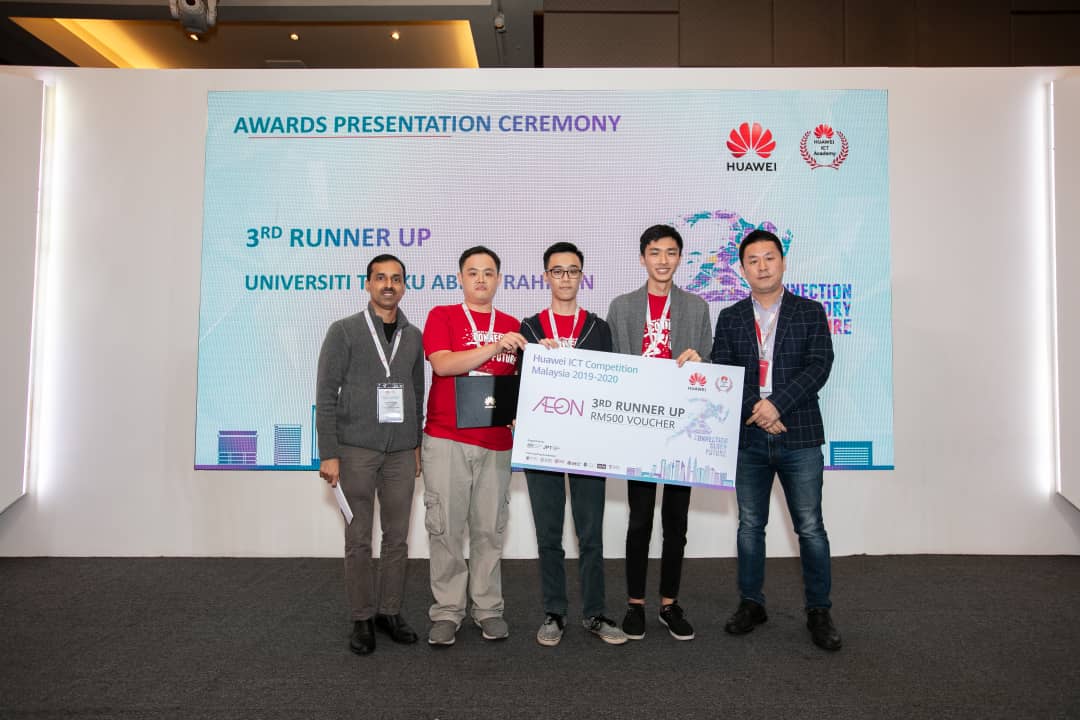 From left: Dr Madhavan, Looi, Chooi and Leong; and Liu Bibo from Huawei Technologies at the awards presentation ceremony
A team of three students from UTAR Lee Kong Chian Faculty of Engineering and Science (LKC FES) was ranked the third runner-up in the Huawei ICT Competition Malaysia 2019-2020 held on 5 March 2020 at Kuala Lumpur.
The team, comprised of Software Engineering students Chooi Kar Jian and Benjamin Leong E-Jenn; and Computer Networking student Looi Zhi Hao walked away with an AEON voucher worth RM500 and a Honor Magic Watch 2 each.
The Huawei ICT Competition is a recognised platform for students to demonstrate and showcase their skills and abilities in the area of information and communications technology. As part of the Huawei ICT Academy initiative, the competition aimed to address the skills gap between the requirements of the industry by partnering with local universities to nurture and produce well-rounded individuals who will be industry-ready, especially in this age of digitalisation. The various categories in the competition were designed to challenge students' ability to apply cutting-edge technologies, such as big data and AI in real-world situations.
The students were first required to attend the Huawei Certified ICT Associate (HCIA) training conducted by certified HCIA trainers at UTAR. The training was headed by LKC FES Head of Programme for MEng (Electronic Systems) and MEng (Electrical) Dr Shee Yu Gang and Head of Department for Internet Engineering and Computer Science Ts Dr Madhavan Balan Nair at Sungai Long Campus while in Kampar the training was headed by Faculty of Information and Communication Technology lecturer Dr Aun Yichiet.
Approximately 70 students participated in this training and went for the entrance online exam. The top three students with the highest score were shortlisted for the competition. The three students shortlisted were, Chooi, Leong and Looi. The selected students were further required to sit for at least 10 hours of online course through the Huawei ICT programme to be eligible for a free voucher worth USD200, which was used to sit for the HCIA Routing and Switching professional exam. This carried extra points for the competition.
One of the participants, Chooi enthused, "I joined the Huawei ICT Competition to discover new useful knowledge and gain experiences for future use. I also joined the competition because there were extravagant prizes for the winners and I wanted to make my CV look more promising."
Another winner Leong said, "In hopes of applying my knowledge in the field of networking and gaining more valuable experiences, I participated in this competition. By participating in this competition, I was also able to contribute back to the University."
Last but not least, Looi added, "The competition served as a platform for me to expose myself to international competitions and know my real potential, in hope to further strengthen my skills."
The team's mentor, Dr Madhavan said, "At LKC FES, we have always encouraged our students to participate in international competitions. The Huawei ICT Competition opened a doorway for students to challenge their ability and bring the best out of them. In this competition, students were given many opportunities and goodies that they could not refuse. Good opportunities are rare, but when it comes, we should grab hold of it or someone else will take it."
A total of seven teams from public and private universities in Malaysia participated in this competition. The participating universities were Taylor's University, Universiti Malaysia Sabah (UMS), Universiti Malaya (UM), Universiti Sains Malaysia (USM), Universiti Putra Malaysia (UPM), Universiti Teknologi PETRONAS (UTP) and UTAR.