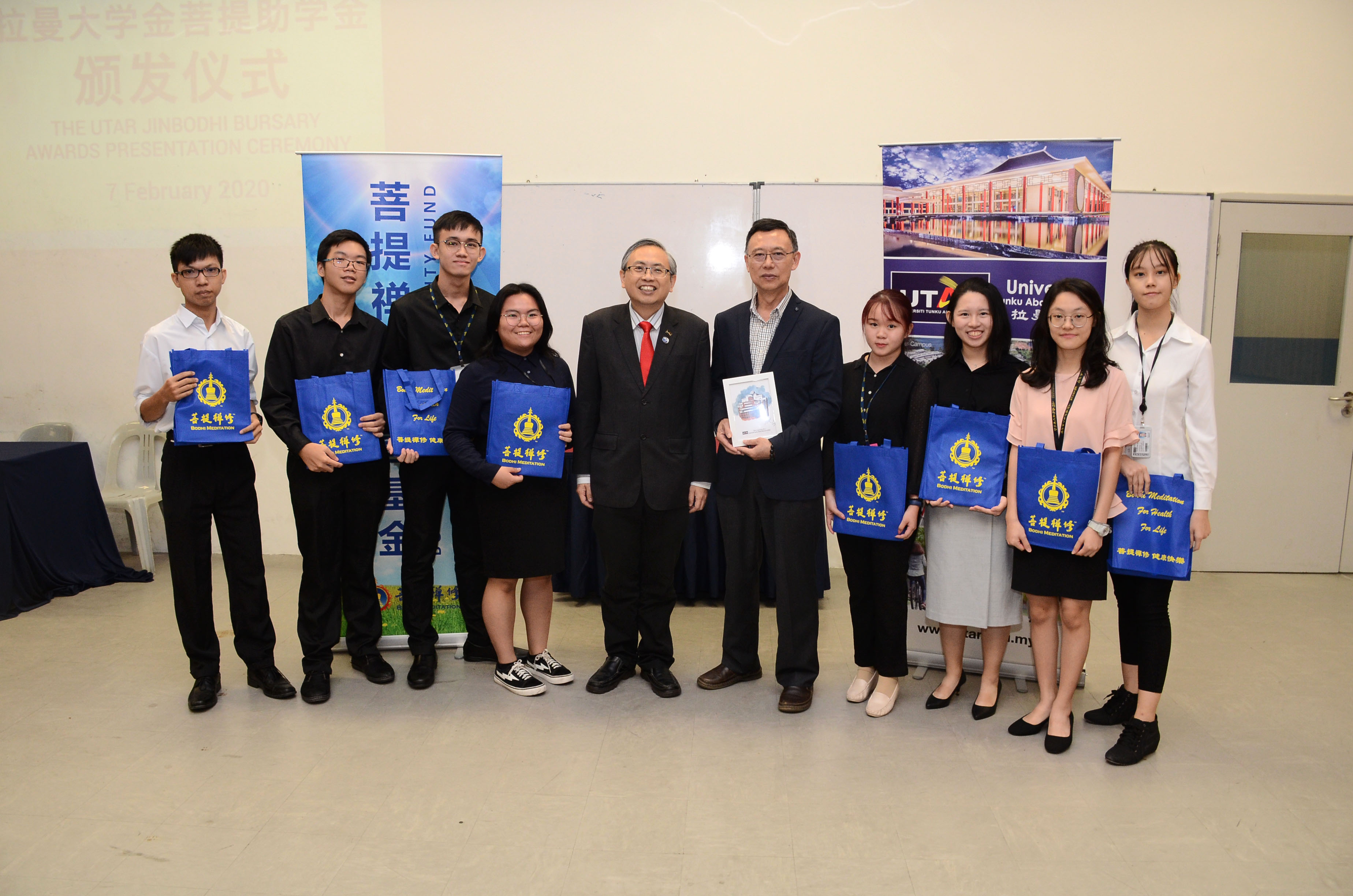 Prof Ewe (fifth from left) and Teacher Ling Shan (fifth from right) with eight UTAR JinBodhi Bursary Award recipients Tey, Lum, Ooi, Lee, Koong, Kong, Ng and Celion
UTAR JinBodhi Bursary Award Presentation Ceremony 2020 was held on 7 February 2020 at UTAR Sungai Long Campus. A total of eight UTAR students received the bursary award from Bodhi Meditation Malaysia Berhad (BMMB).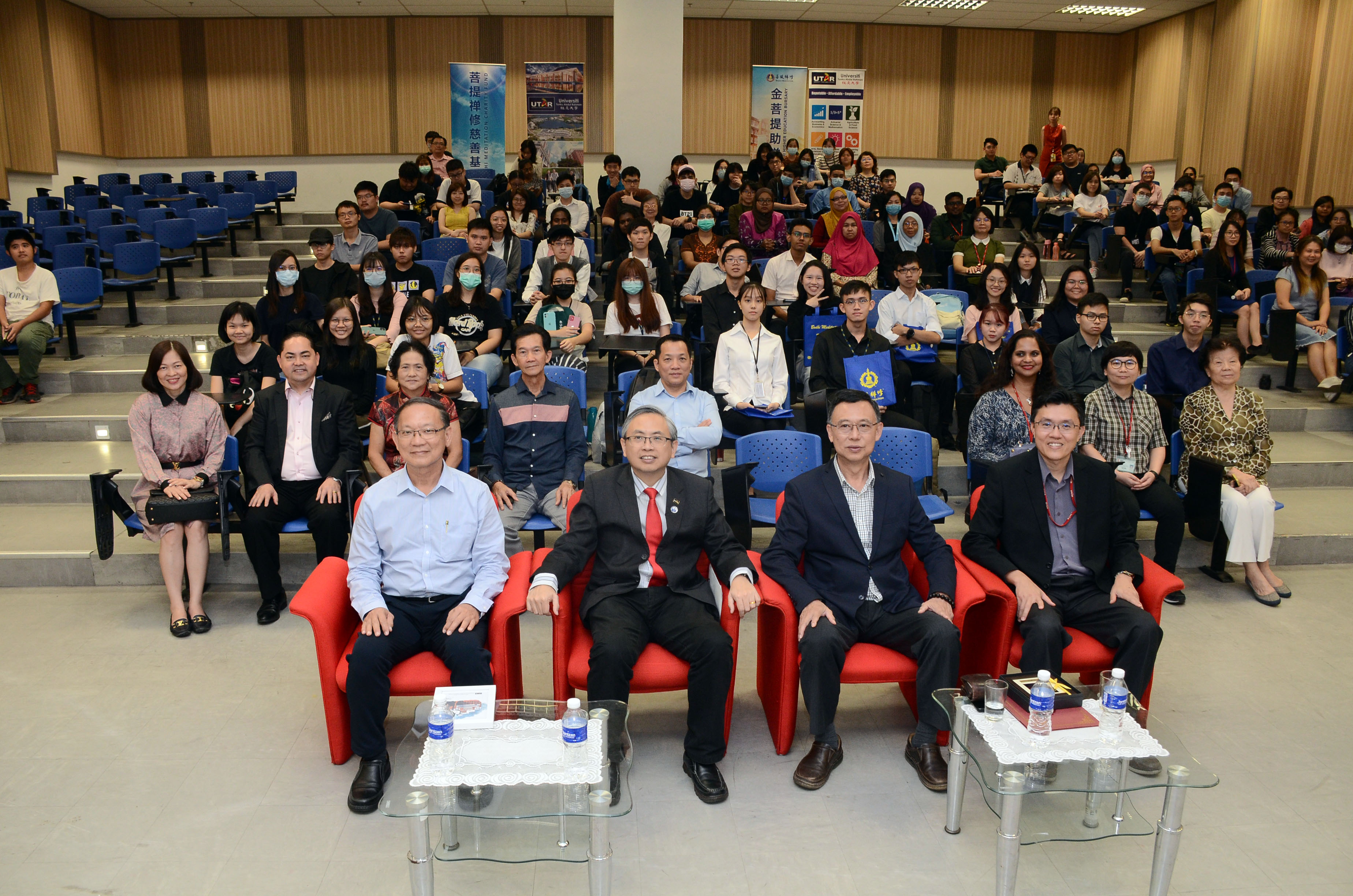 Front row, from left: Brother Xu, Prof Ewe, Teaching Ling and Prof Goi
Present at the ceremony were Chairman of BMMB Teacher Ling Shan, Vice Chairman of BMMB Brother Xu Te, UTAR President Ir Prof Dr Ewe Hong Tat, Lee Kong Chian Faculty of Engineering and Science Dean Ir Prof Dr Goi Bok Min, BMMB members, bursary award recipients, UTAR staff and students.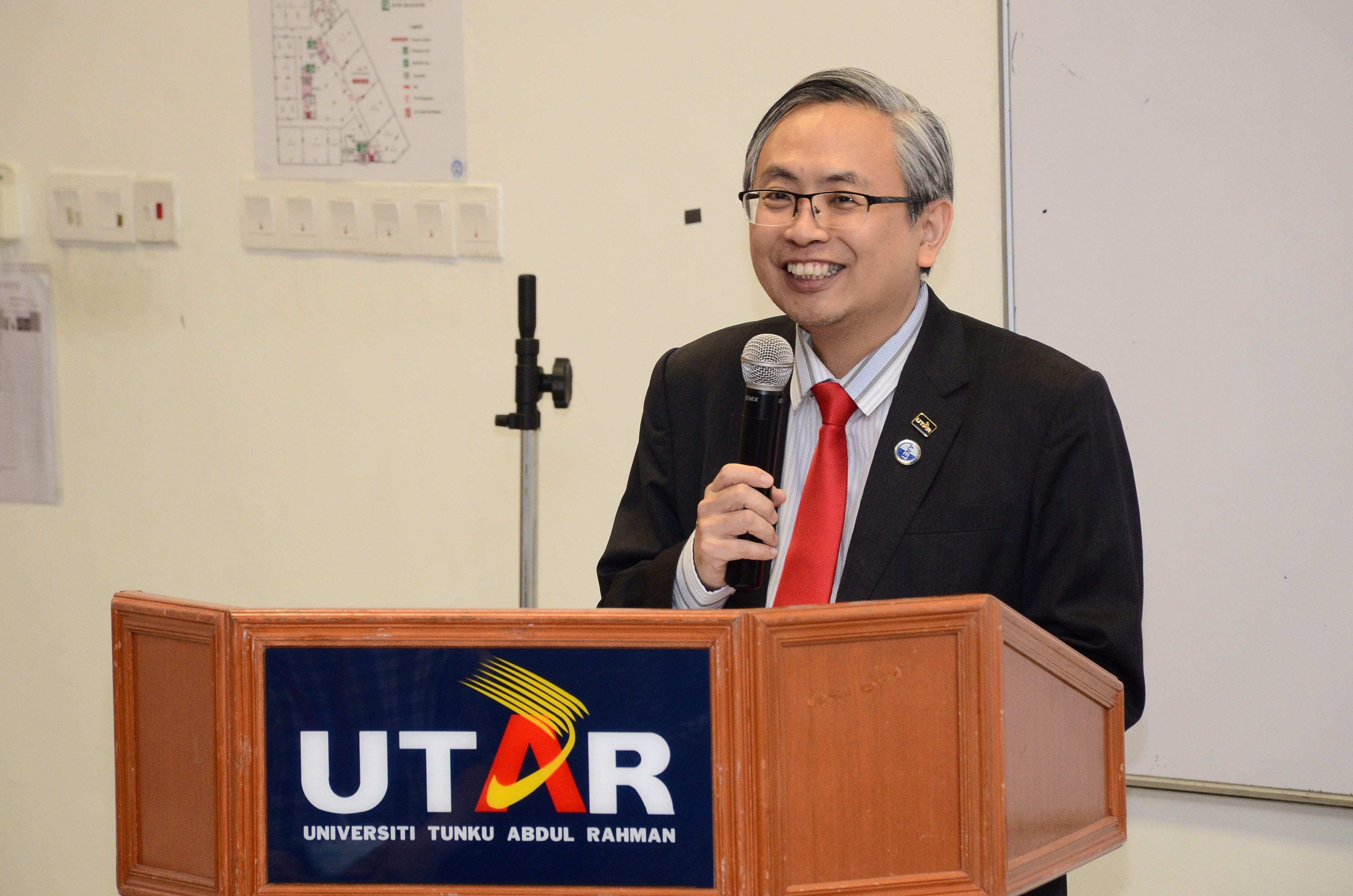 Prof Ewe expressing his gratitude to BMMB
Expressing his gratitude to BMMB, Prof Ewe said, "In 2018, 54 students received a total amount of more than a million; and in 2019, more than RM800,000 was given to 46 students. Today, I am honoured to witness eight students from the October 2019 batch who are here today to receive part of the 2019 JinBodhi Bursary Award. The fund committed to these eight recipients is RM126,870. We truly appreciate your generosity."
"For the recipients, I hope you all will see the value beyond the money and take it as an example on how you can involve in community service and offer help to those in need, not only to those that you know but to strangers as well. Always remember to give back to the society as this bursary helps you climb your ladder to success," said Prof Ewe.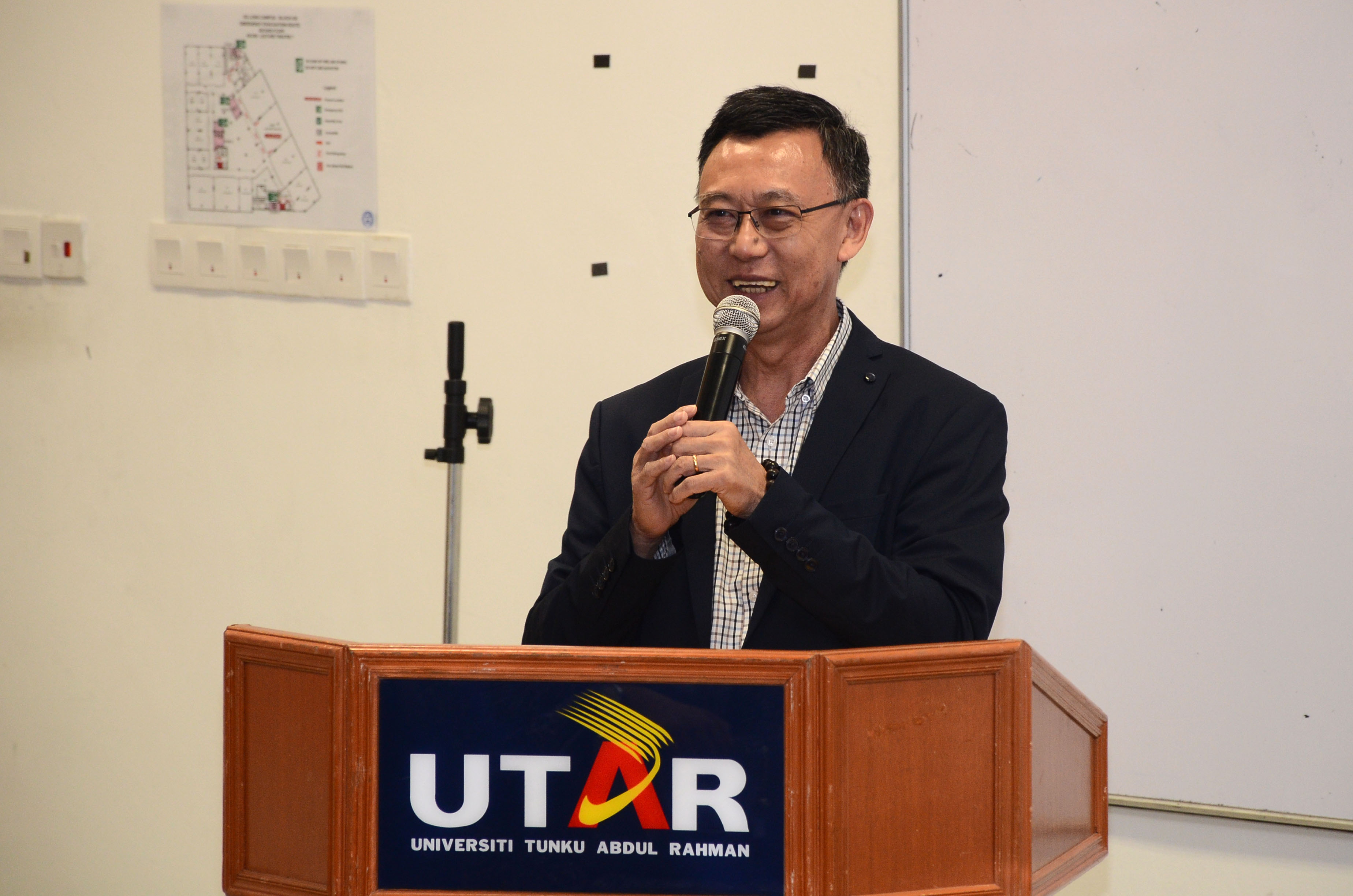 Teacher Ling Shan expressing his anticipation to see the recipients' success in the future
Teacher Ling Shan said, "Thank you very much to UTAR for giving JinBodhi Bursary Foundation an opportunity to work together to support students who are in need to further their studies. UTAR is one of the best tertiary educations in Malaysia and is well known in society. The corporate loves to hire students from UTAR."
"UTAR JinBodhi Education Bursary was set up by the Founder of Bodhi Meditation, Master JinBodhi with the aim to provide financial support to help students complete their studies. Education is one of the most important factors in life, you all must strive hard and learn to contribute to the community while you are still studying. You must remember that life is not always smooth, but the most important thing is that you do not give up and learn how to overcome the difficulties. We hope through this bursary you can free yourself from worries and be able to put in your full effort in your academic. I am anticipating to see the success of all the recipients in the future.Congratulations all the recipients once again," added Teacher Ling.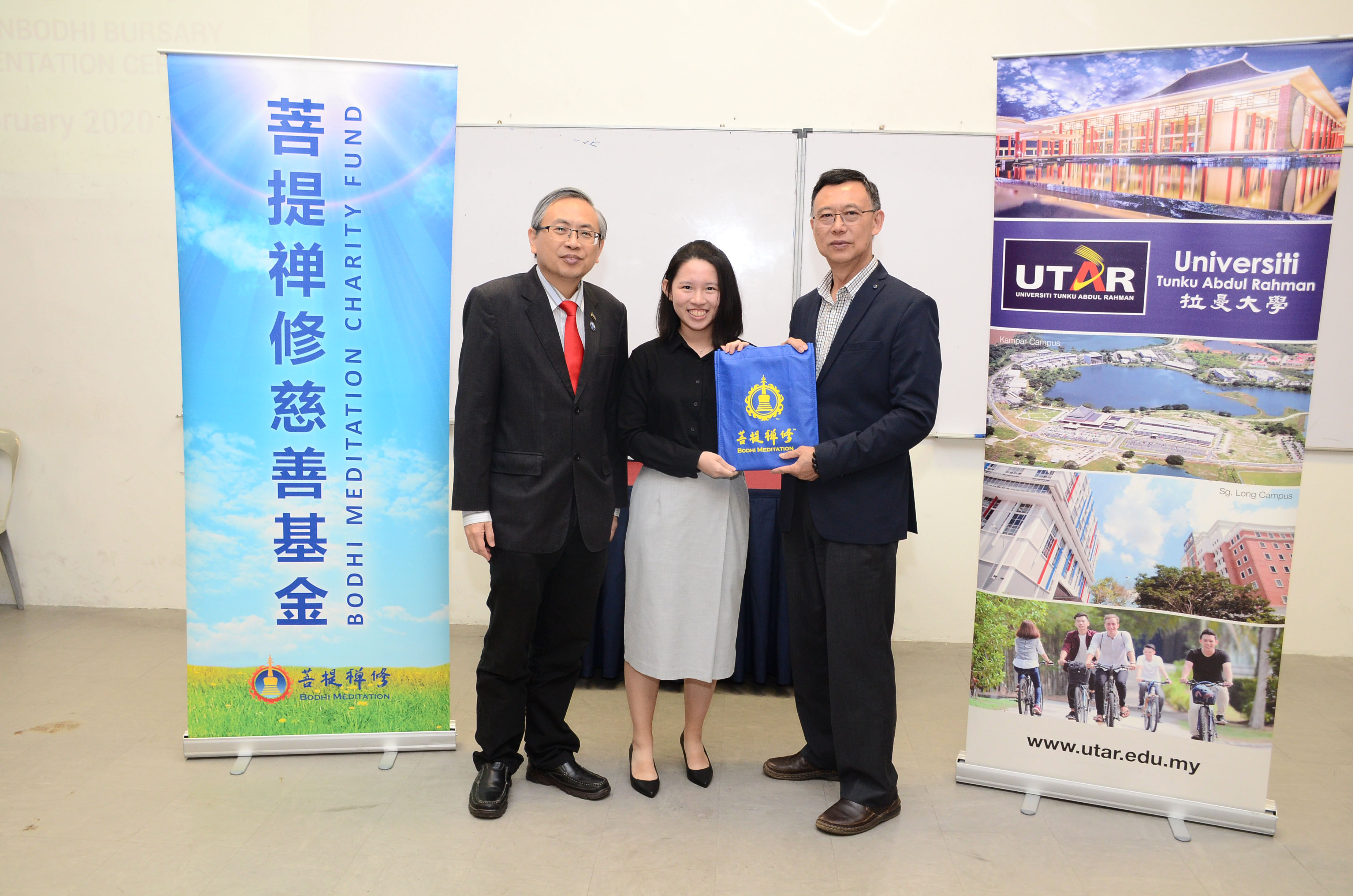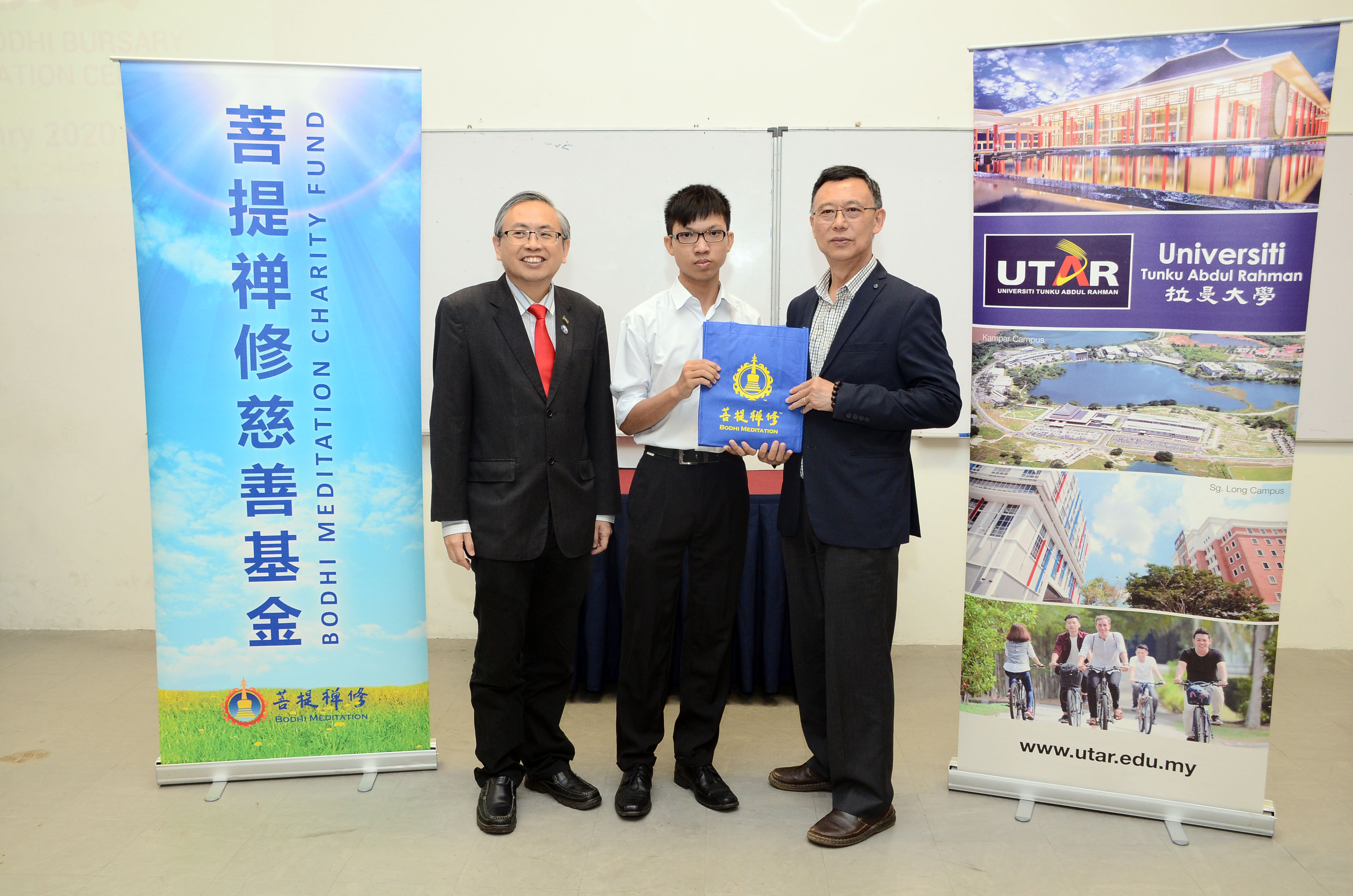 Kong Xin Yi (left picture, centre) and Tey Chen Hup (right picture, centre) receiving bursary from Teacher Ling (far right) witnessed by Prof Ewe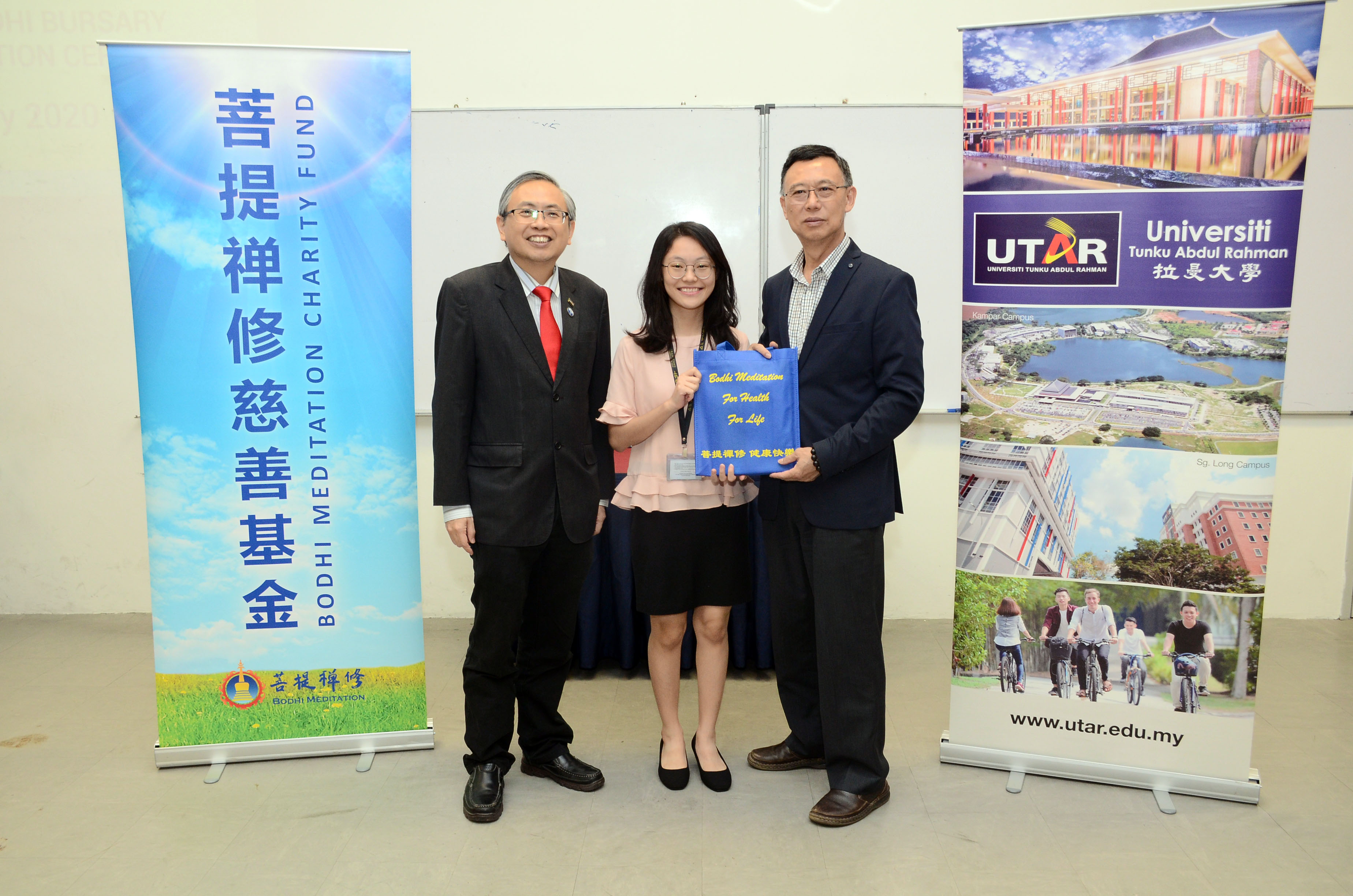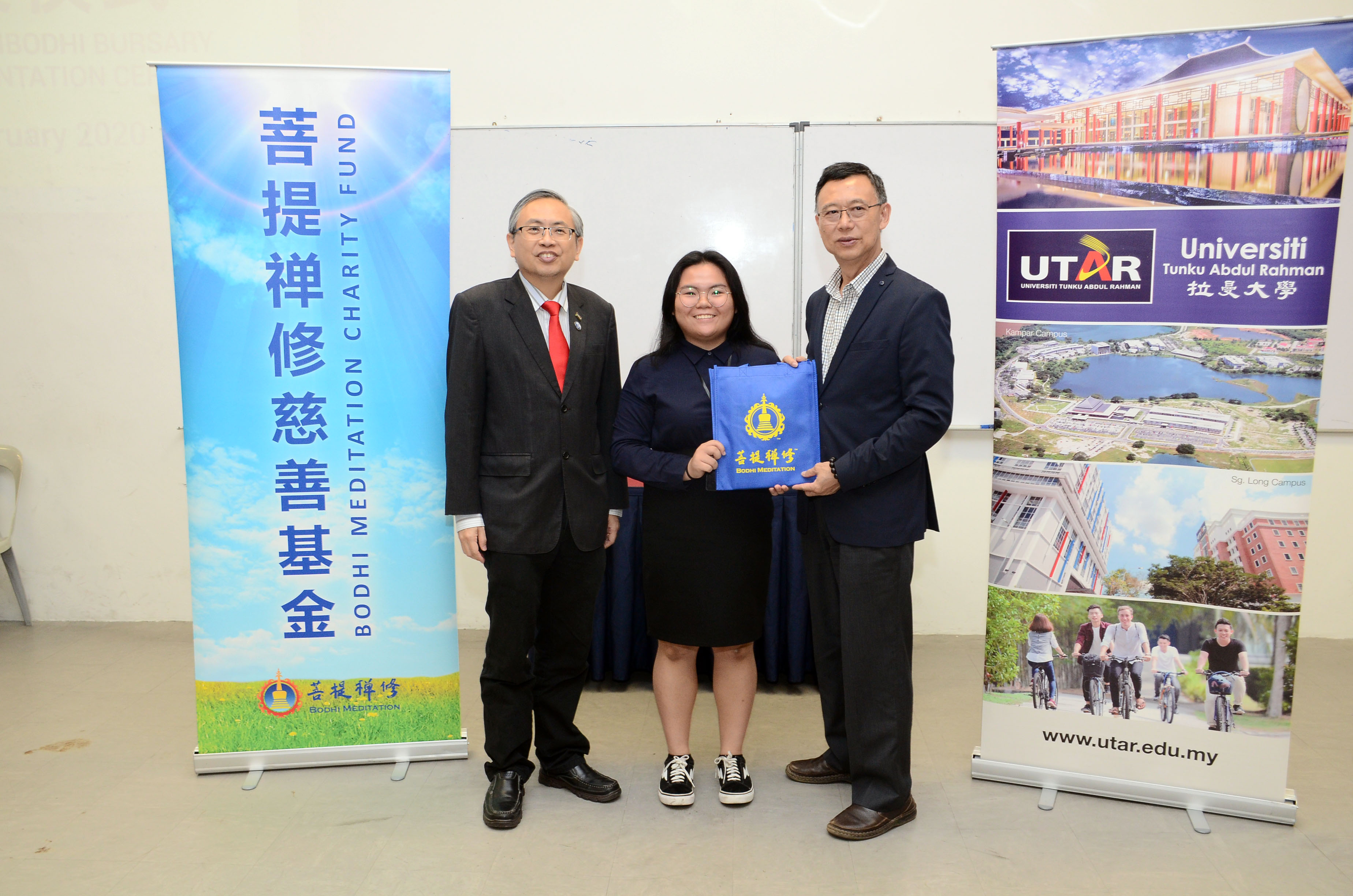 Ng Shing Sian (left picture, centre) and Lee Shu Hui (right picture, centre) receiving bursary from Teacher Ling (far right) witnessed by Prof Ewe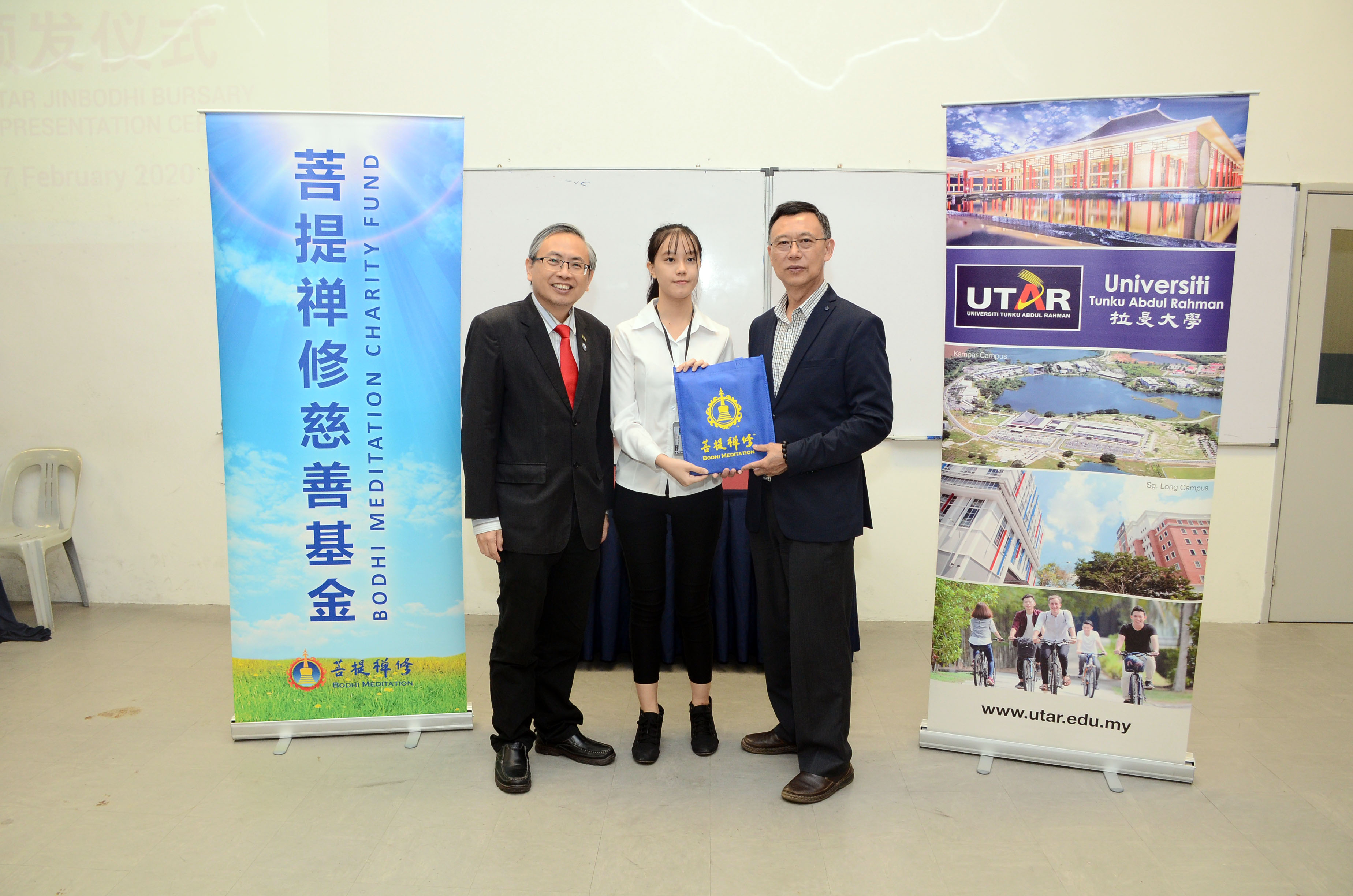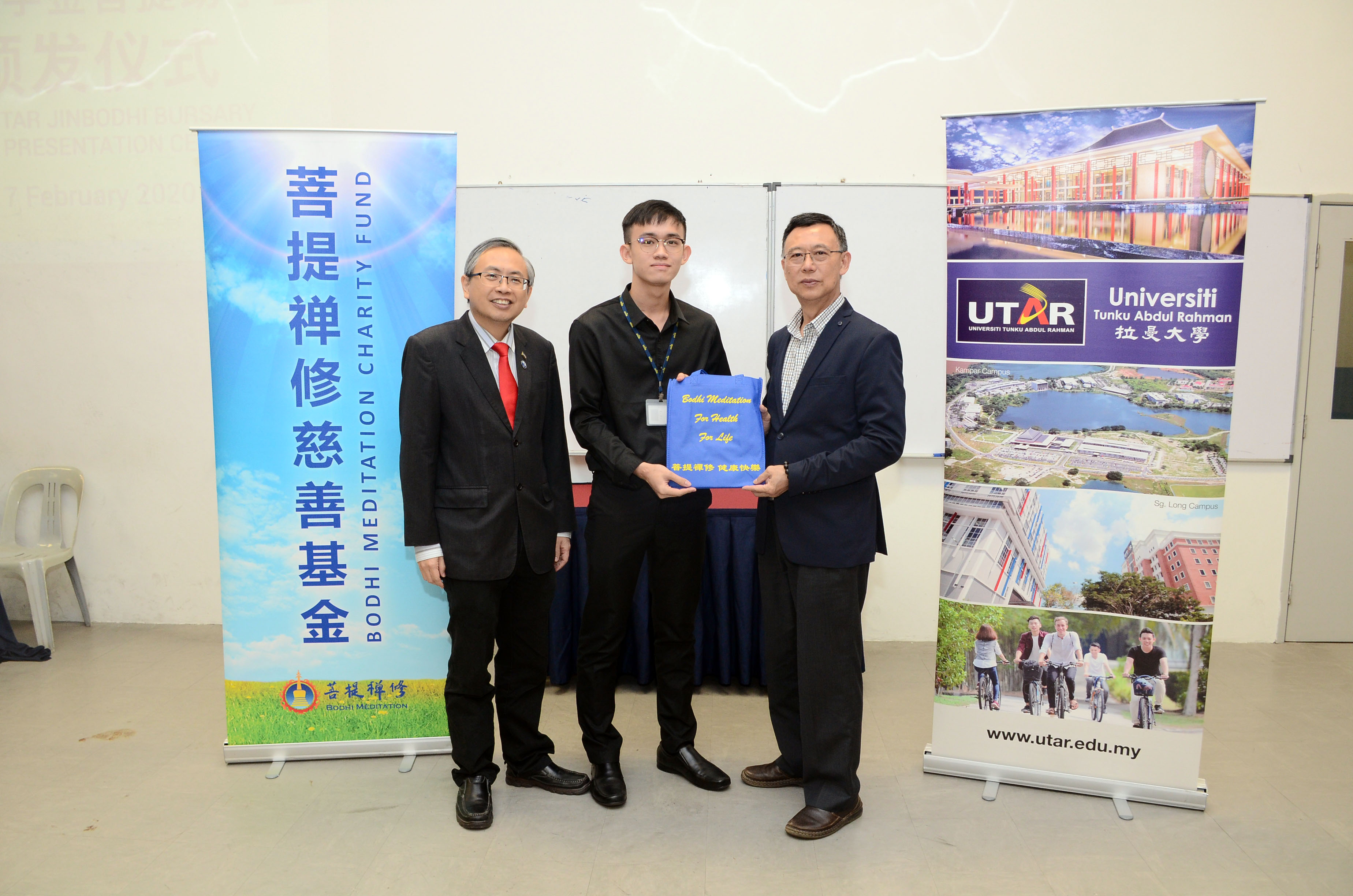 Celion Chin Yee Ching (left picture, centre) and Ooi Lun Yuan (right picture, centre) receiving bursary from Teacher Ling (far right) witnessed by Prof Ewe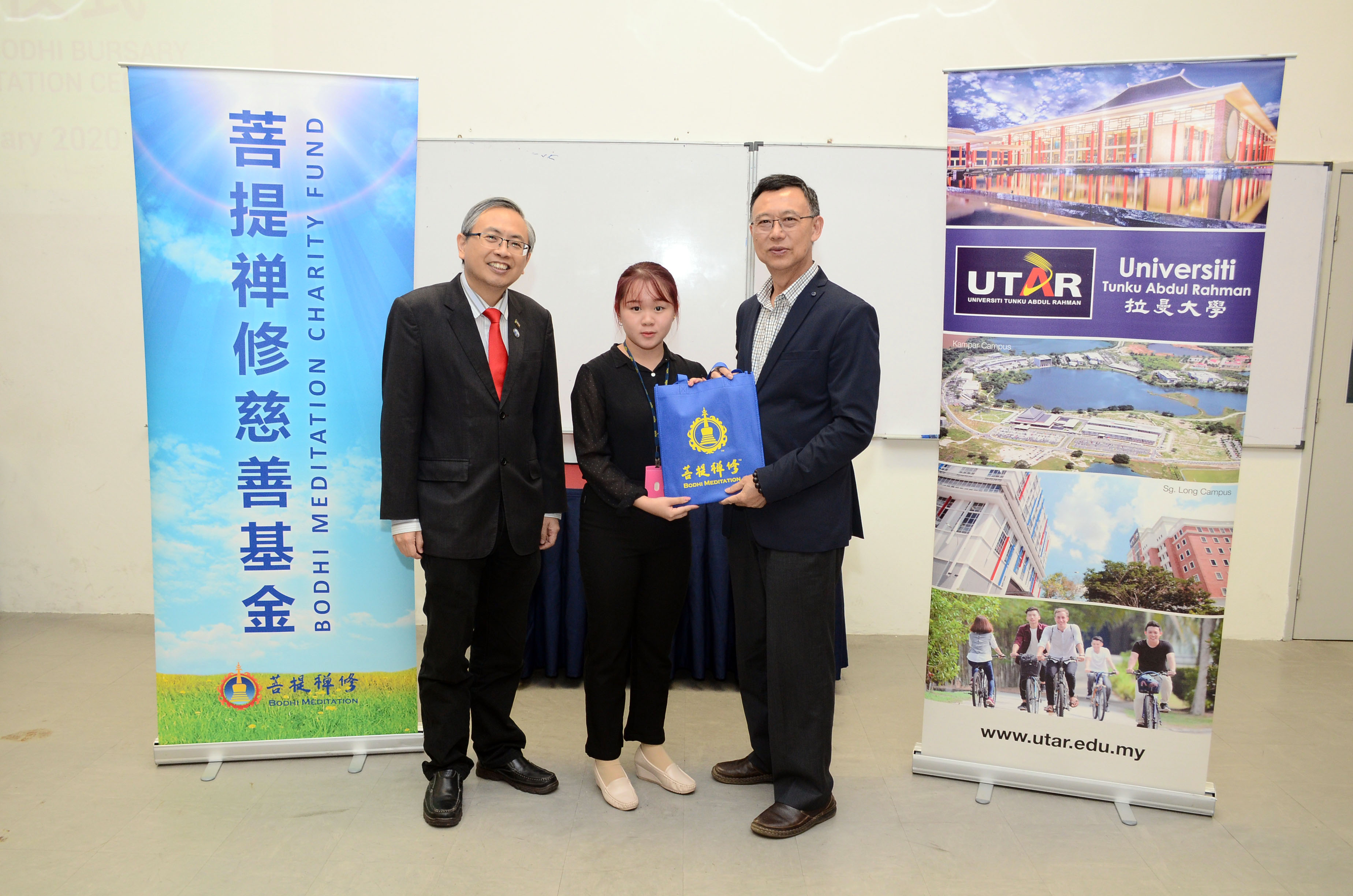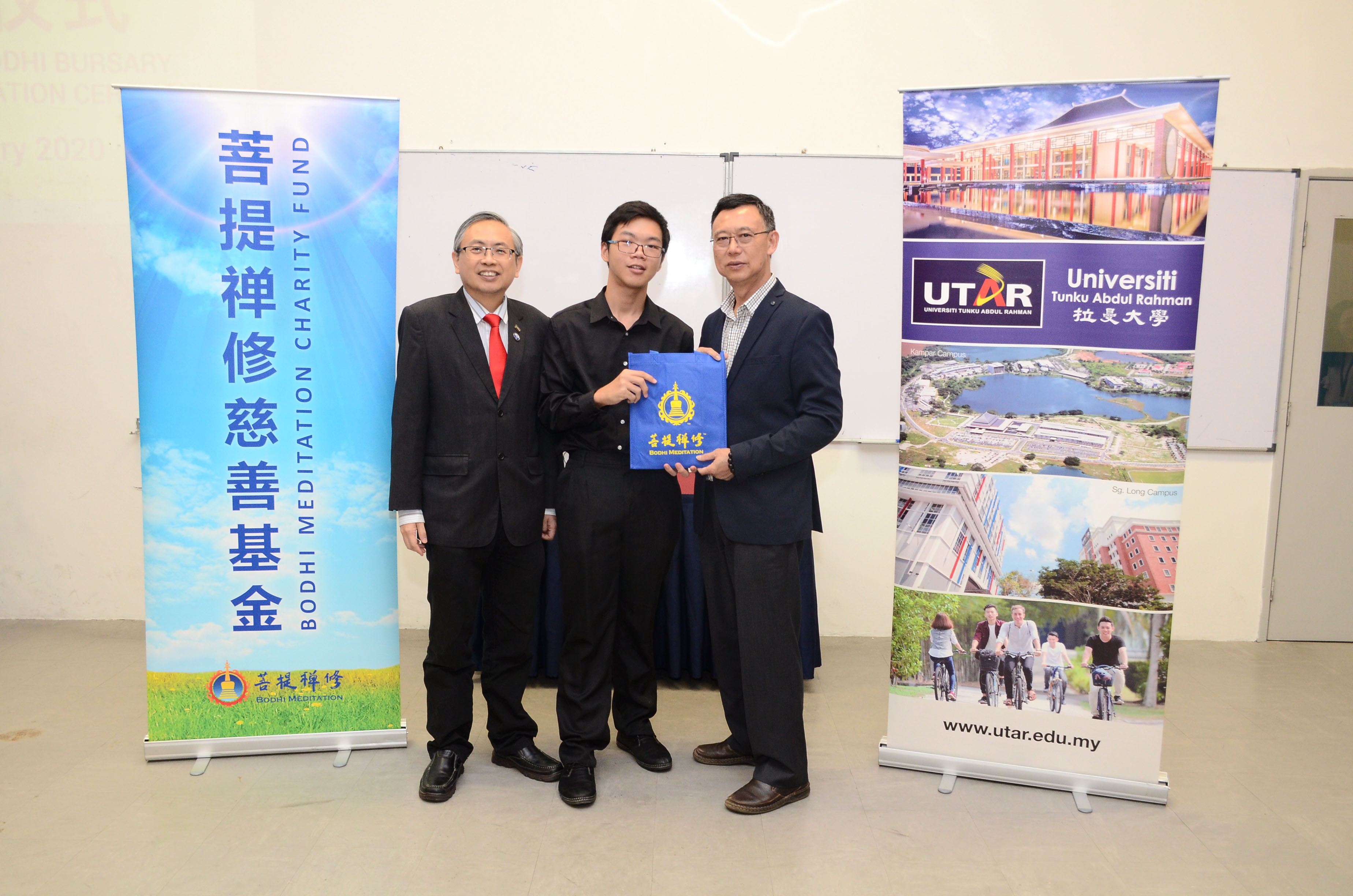 Koong Kar Yee (left picture, centre) and Lum Kai Kit (right picture, centre) receiving bursary from Teacher Ling (far right) witnessed by Prof Ewe
Lee Shu Hui said, "I was born in a single-parent family. My mother left me 10 years ago and my father took the responsibility to take care of my brother and myself. In order to manage our daily expenses, my father has to work seven days a week, from day to night. He works day and night, without rest to earn money for my tertiary education and also for my brother's education. Initially, I planned to give up my studies and work to help my father. And now, I just want to thank Bodhi Meditation Malaysia Berhad very much. Thank you Bodhi Meditation Malaysia Berhad and UTAR for accepting my application. Because of your kindness, I will be able to continue my studies. I will remember this good deed and I will pass it on to people in need."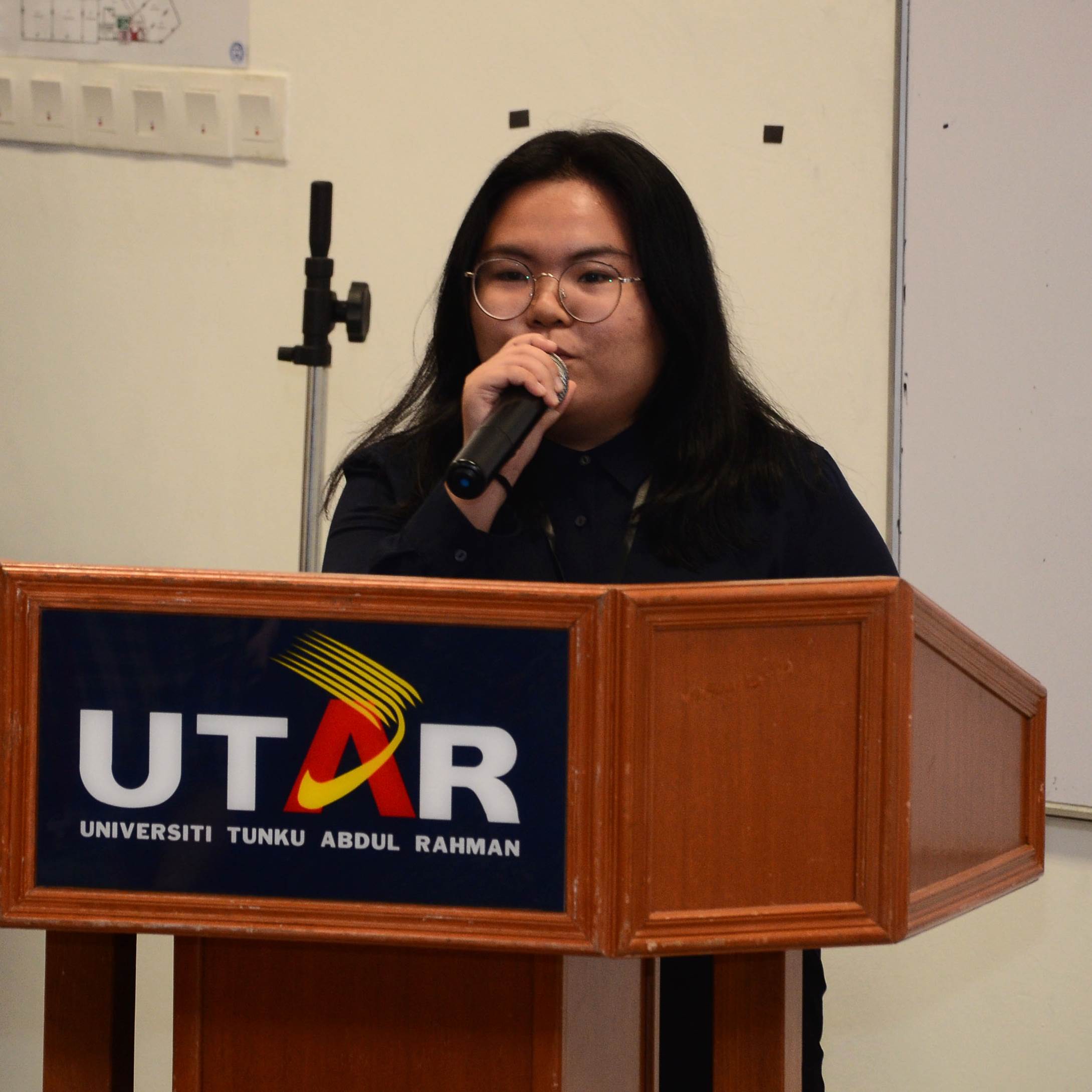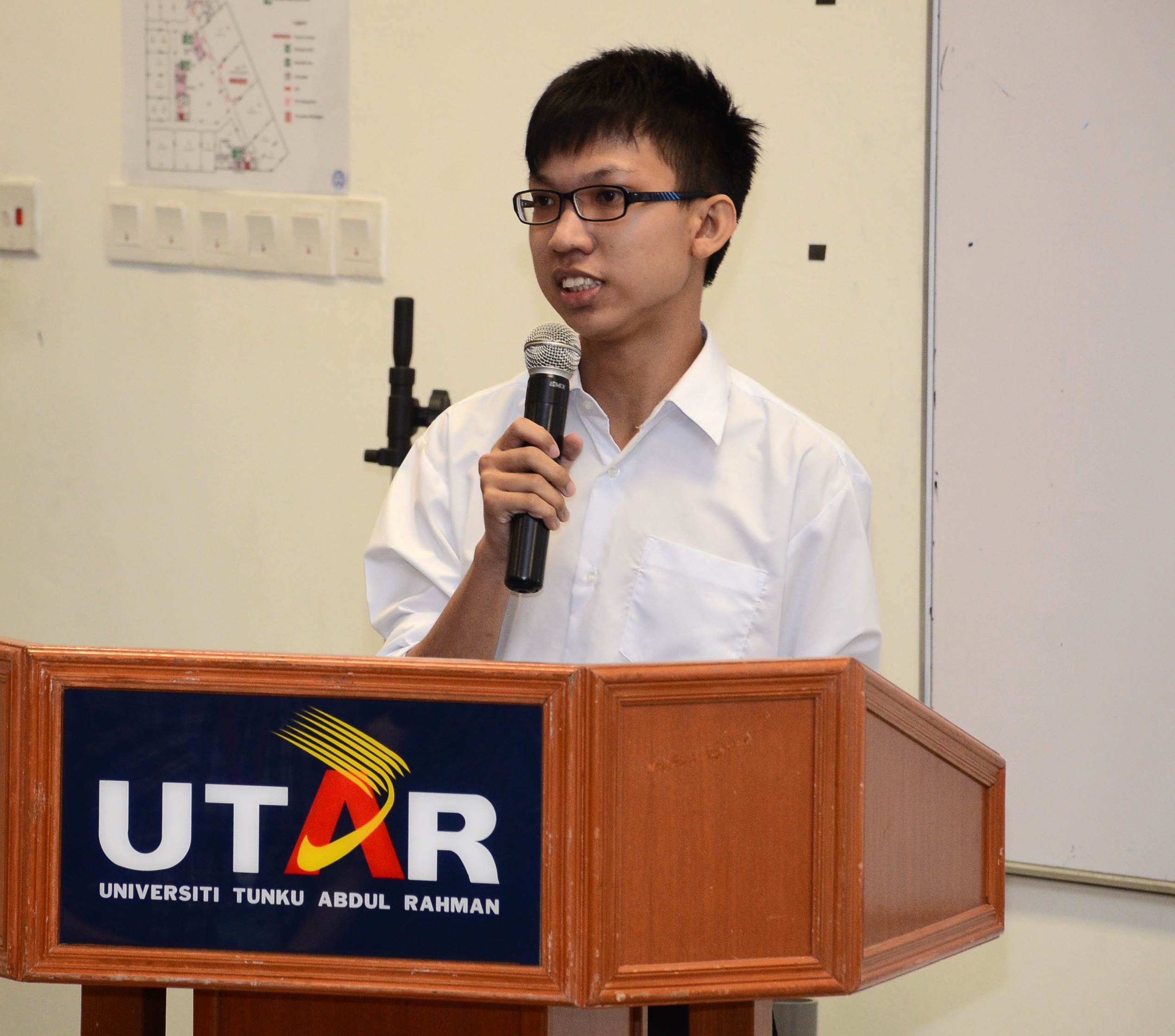 Lee (left) and Tey expressing their gratitude to BMMB and UTAR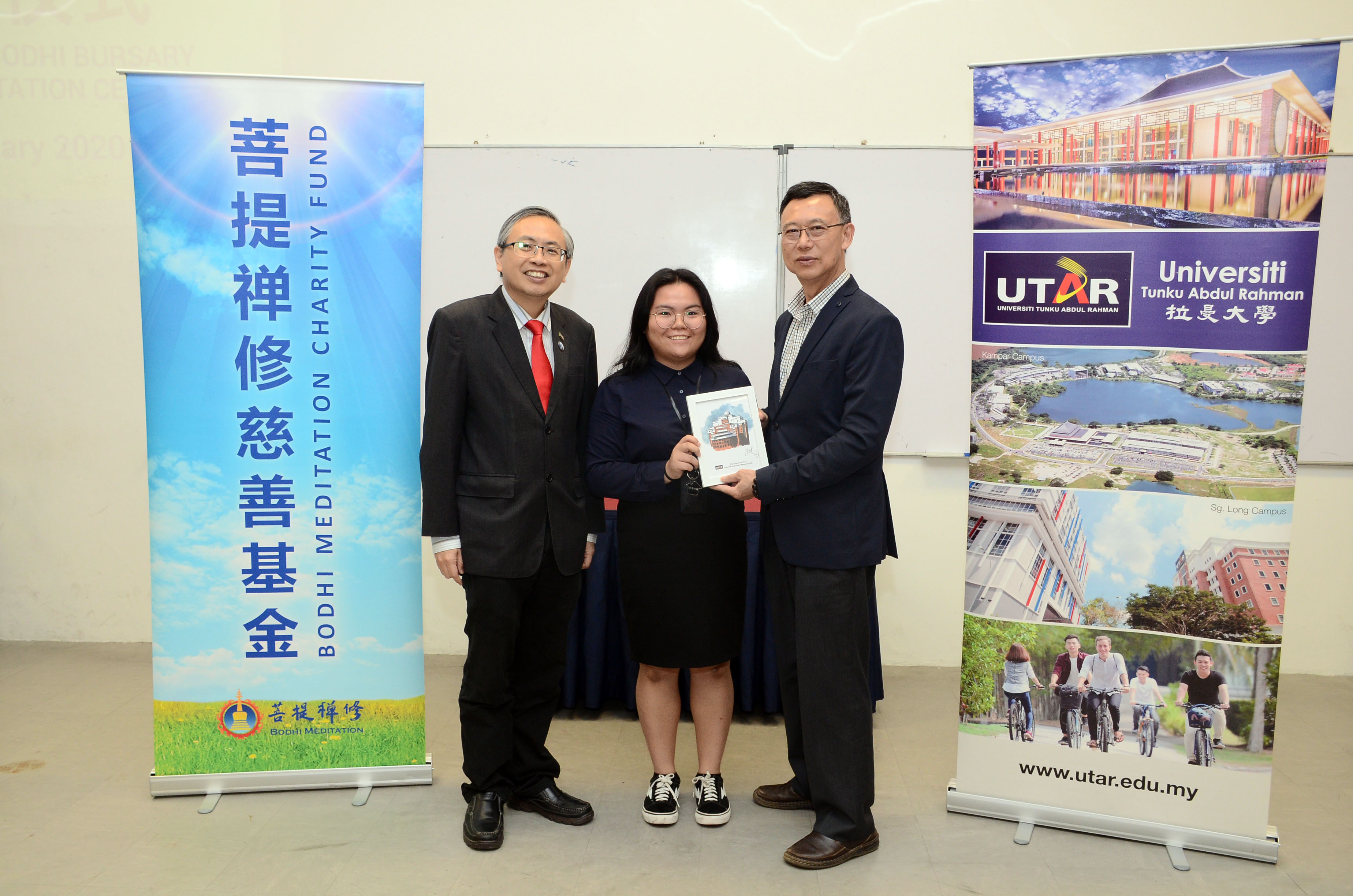 Lee Shu Hui (centre) presenting the token of appreciation on behalf of the recipients to Teacher Ling (right) while Prof Ewe (left) looks on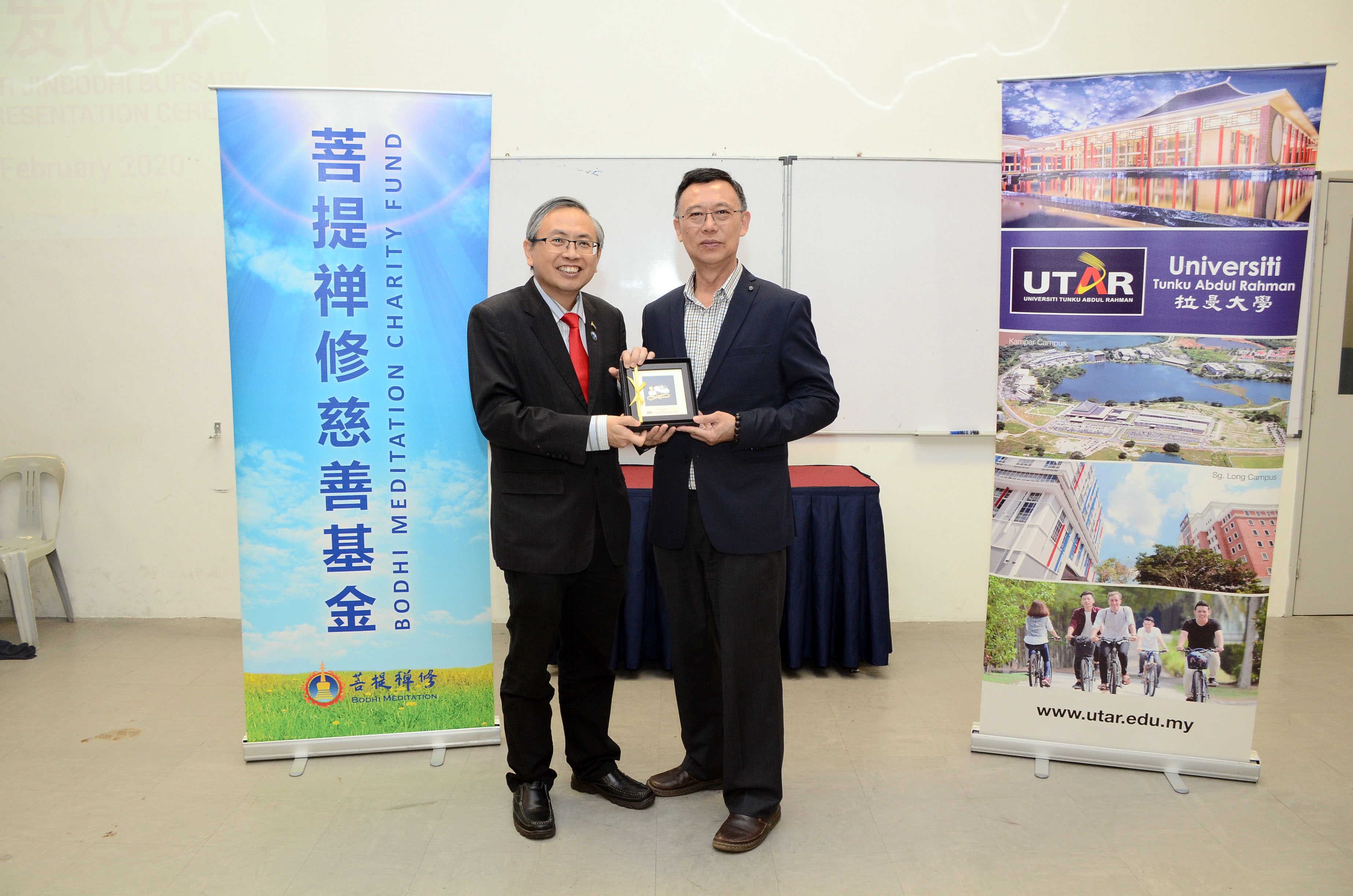 Prof Ewe (left) presenting the token of appreciation to Teacher Ling Shan